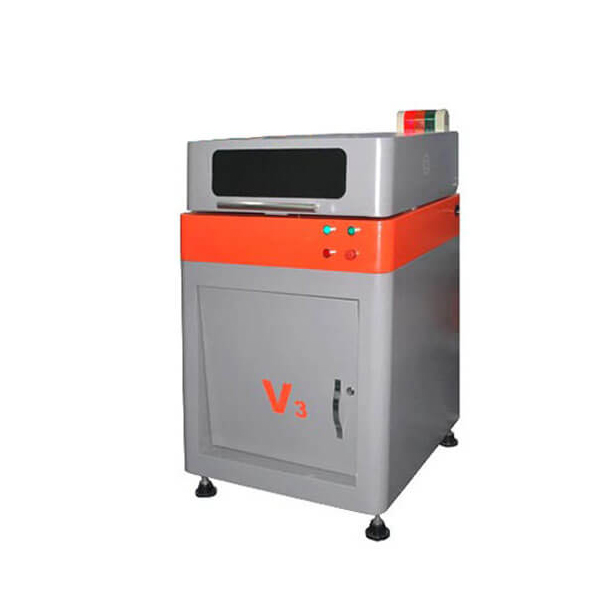 High Vacuum Reflow Oven V3HV
According to the specific requirements of the process:
1. The name V3/V4/V5 is called according Vacuum, means professional industrial Vacuum reflow oven.
2. Why chose Vacuum reflow oven? Recently, the main welding tool is soldering iron, reflow oven, wave solder machine or other welding machine, and later update to Nitrogen reflow oven. But some welding, need high requirement of welding, like material testing, Chip packing, Power equipment, Automotive products, Train control, Plane system, aerospace system, which need avoid the Empty and oxidation of welding. Vacuum reflow oven is the unique choice to reduce empty and oxidation. Vacuum reflow oven can make sure high quality of welding. Vacuum welding is the new technology in Germany, Japan, USA.
3. Application of industry: Military enterprise, Research institutes, University, Aerospace, and it's the best choice for R&D, Process research.
4. Application of field: suit for no defect welding and perfect no flux welding in Chip and PCB Board, cover and board, like IGBT package, solder paste process, laser diode package, IC package, MEMS and vacuum package.
5. Vacuum reflow oven is the necessary equipment in Military enterprise, Aerospace in USA, European, also get university application in Chip package, electronic welding.
Features:
1. Vacuum welding environment, can be up to 10-4mba.
2. Low active flux welding environment.
3. Touch screen control and professional software, get perfect operation.
4. 40 sections programmed temperature control system, can set perfect welding profile carve.
5. Temperature setting used touch control model, and can be pulled the carve by hand.
6. Unique water cool system, realize the fastest cooling.
7. 4 temperature testing. Realize the measurement of temperature uniform in welding zone.
Supply professional reference in process testing.
8. Formic acid, nitrogen or other Inert gas suit for special welding process.
9. Patent design in online real video system, can take video of every process and provide good reference for quality tracking, perfect data support in researching of welding and test in materials.
10. Highest temperature :450 degree Celsius (higher temperature is optional), meet all soft welding needs.
11. View window on the cover.
12. 8 safety system monitor and protect system (Over temperature protection, The temperature security protection, air pressure protection, water pressure protection, safety operation).
Standard spare part:
1. One host.
2. One industrial-grade touch screen computer.
3. One set of temperature controller.
4. One set of pressure controllers.
5. One set of closed-loop water cooling system.
6. One set of four-way temperature measurement module.
7. One set of vacuum pressure transmitter.
8. One set of inert gas or nitrogen control valve.
9. One set of water tanks.
10. One set of chillers.
Optional spare part:
1. Anti-corrosion diaphragm pump, vacuum 10mba.
2. Rotary vane pump, vacuum for vacuum less than 5Pa.
3. Scroll molecular pump system, used for vacuum of 10-3Pa vacuum.
4. Formic acid (local installation).
5. Component fixture.
6. 110V power system
Technical Parameters
Model
V3HV
Welding area
≥300mm*240mm
Furnace height
≥100mm
Maximum welding temperature
≥450℃
The ultimate vacuum degree when no positive pressure nitrogen is charged
≤3Pa, working vacuum 10-200Pa
Data interface
Serial port /USB port
heating method
The bottom is heated by infrared radiation, and the platform adopts a semiconductor-grade silicon carbide coating graphite platform
Temperature uniformity
Within effective welding area≤±1%
Maximum heating rate
120-240℃/min
Maximum cooling rate
60-120℃/min
Welding porosity
小于2%
Provide positive pressure module
It can be filled with positive pressure nitrogen, the pressure is about 0.25-0.3MPa
welding technology
40 stage temperature control + vacuum pressure control
Temperature curve
Can store several 40 segment temperature curve
Voltage
220V 25-50A
Rated power
9KW
Actual Power
6KW (No vacuum pump)
8KW (Formulated molecular pump)
Dimension
900*1100*1300mm
Weight
340KG
Dimensions