Face Mask/Phone UVC Sterilizer
Product Information
Face mask and Mobile phone Sterilizer
Main fabric: Eco-friendly PU leather Pink Apricot
Note: these sizes are measured manually and error is unavoidable. Please refer to the material object Product Photograph
Diagnosis and treatment of novel coronavirus infected pneumonia
Prevention and control of novel coronavirus
1. Going out as seldom as possible, washing hands as frequently as possible and wearing masks as always as possible.
2. Disinfect mask to prevent infection.
3. In addition to wearing masks, do not forget to sterilize mobile phones.
4. Avoid close contact with people with respiratory tract infection.
5. Avoid close contact with wildlife or poultry.
To prevent from the epidemic, you need a sterilizer for mask and mobile phone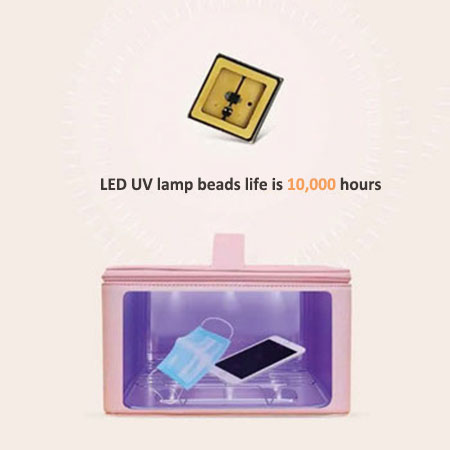 Torch sterilizer owns 99.9% sterilization rate in antivirus for mask and mobile phone.
Torch sterilizer for mask and mobile phone.
Functioned for both disinfection and storage.
UVC Ultraviolet deep light.
In 5 minutes quickly complete disinfection.
No residue, safe and environmental protecting.
Doctor reminds.
Only by disinfecting the source of the infection and not being infected can it get better quickly.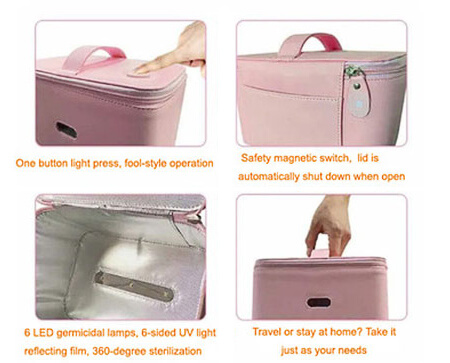 Gynecologic patients
Source of infection: underwear.
Infectious bacteria: Escherichia coli, Candida albicans, trichomonad, HPV, gonorrhea, etc.
Sick children: Source of infection: toys, mobile phones, saliva towels, drinking glasses.
Infecting germs: influenza, hand, foot and mouth, rotavirus, respiratory germs, allergic germs, etc.
Skin patient: Source of infection: socks / underpants.
Infectious bacteria: fungi such as beriberi / gonorrhea, syphilis, HPV, etc.
Doctor: Source of infection: stethoscope, sphygmomanometer cuff, mobile phone, glasses, key.
Prevent cross infection and keep doctors away from bringing the germs home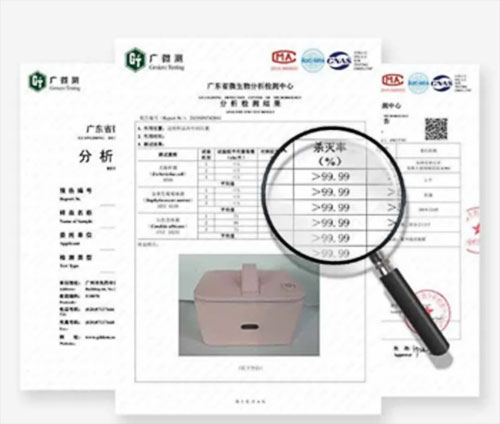 Led UV Black technology comes for 5 minutes disinfection Sterilization rate 99.9%.
Phone mask disinfection.
Prevention of disease.
LED UV lamp beads life is 10,000 hours.
Professional testing is more reassuring.
Guangdong Provincial Center for Microbial Analysis and Testing.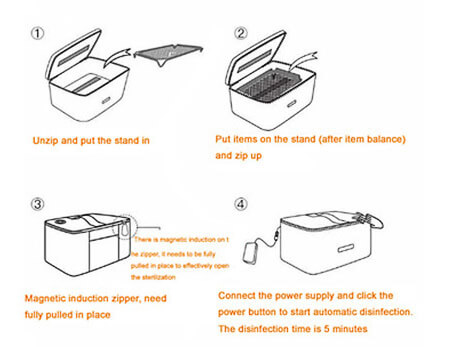 Every ingenuity is put O-Observant to protect you
1. One button light press, fool-style operation.
2. Safety magnetic switch, the lid is automatically extinguished without hurting the eyes when open.
3. 6 LED germicidal lamps, 6-sided UV light reflecting film, 360-degree sterilization.
4. Travel or stay at home? Take it just as your needs.
5. Time is 5 minutes
Since December 2019, a number of new coronavirus infected pneumonia patients emerged in Wuhan, Hubei Province.
With the spread of the epidemic, such cases have been found in other regions of China and abroad. The disease has been included in class B infectious diseases stipulated in the law of the people's Republic of China on the prevention and control of infectious diseases, and the prevention and control measures for class A infectious diseases have been taken to treat this disease.
With the in-depth understanding of the disease and the accumulation of diagnosis and treatment experience, we revised the diagnosis and treatment plan for new coronavirus infected pneumonia (trial version 3).
1. Characteristics of etiology
The novel coronavirus is a novel coronavirus of beta genus with envelop, round or oval shape, it always appears polymorphy. Its diameter is 60-140nm. Compared with SARSr-CoV and MERSr-cov, the genetic characteristics of coronavirus is significantly different.
Till the moment, its homology with bat-sl-covzc45 is verified as more than 85%. In vitro isolated fostering, 2019-ncov can be found in man's respiratory epithelial cells in 96 hours, while in Vero E6 and Huh-7 cell isolated fostering, it will take about 6 days.
The recognition of the physical and chemical characteristics of coronavirus mostly comes from the study of SARS-CoV and MERS-CoV. The virus is sensitive to UV and heat. At 56 ℃ for 30 minutes, ether, 75% ethanol, chlorine containing disinfectant, peracetic acid and chloroform can effectively inactivate the virus, chlorhexidine can not effectively inactivate the virus.