Large-power Deep UVC Sterilzier Airplane Robot
Large-power deep UVC Sterilzier Airplane Robot with buit-in laser radar
Brief introduction:
Through the combination of high-power deep UVC sterilizer modules and robots, we developed the aircraft-specific sterilizer robots. After cleaning the cabin of the aircraft, the UVC sterilizer robot is activated to complete the disinfection of the aircraft cabin.
I. Features:
1. Large power deep UV chip for virus killing. UV power is up to 4600-5000mw.
2. Automatic telescopic arm to achieve disinfection on surface of luggage compartment and seat and air disinfection.
3. Vacuum encapsulation, welding void is less than 1%.
4. Deep UV aircraft cabin surface-radiation virus-killing + Deep UV air virus-killing.
5. After antivirus process, air will output in anion status.
6. Laser radar navigation, map creation, renew and editing function is realized.
7. Unattended operation, remote-distance control.
8. Wifi and 4G.
9. Automatic power charging
II. Deep UV virus-killig disinfection function introduction:
1. The UV ceramic gold-plated package chip which can control wavelength to 275nm.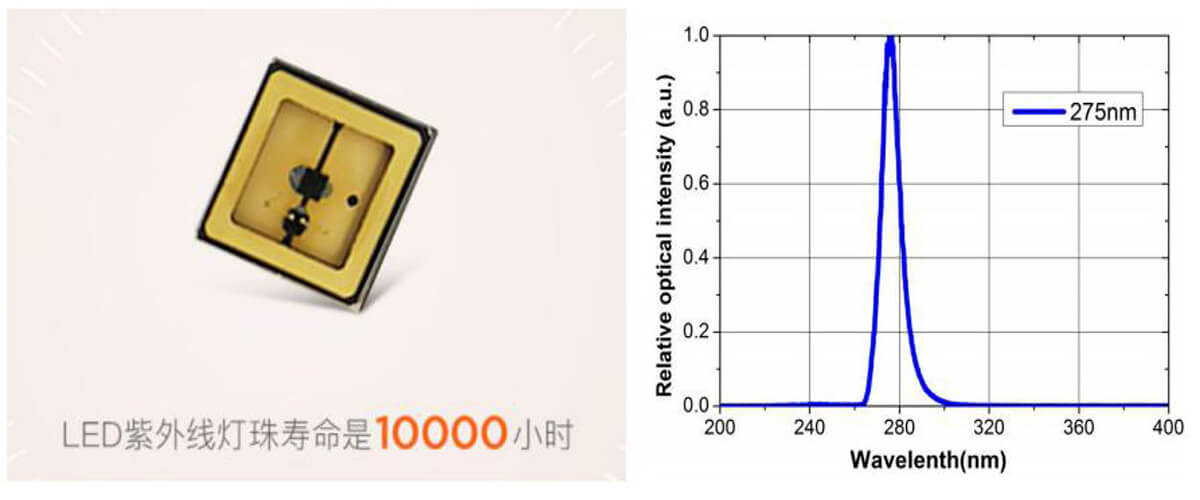 2. It is clearly stated from the relevant data published by the country that deep ultraviolet rays are effective in killing the new crown virus.
In addition, the research team of Dong Xiaoping, an expert at the Viral Disease Prevention and Control Institute of the Chinese Center for Disease Control and Prevention during the SARS period, found that SARS virus is sensitive to heat radiation and UVC. The researchers applied the UVC with an intensity of more than 90μW/cm² to the coronavirus to kill the virus in 30 minutes. The researchers also found that as the temperature increased, the inventory capacity of coronavirus decreased significantly. In serumfree culture conditions, heating to 75℃ can kill coronavirus in 30 minutes. The recent thermal radiation experiment for 2019-nCov found that it can be killed in 30 minutes at a temperature of 56 ℃. Therefore, the radiation dose of UVC to kill 2019-nCov may be less than SARSr-CoV, but the specific dose needs further confirmation.
Ⅲ. Cloud system management of deep UV antivirus robot:
1. Support remote mapping.
2. Support remote calibration and update location.
3. Support remote update or edit of navigation map.
4. All anti-virus robots can be managed in the background of the robot management system.

Ⅳ. Powerful cloud data recording function:
1. Record disinfect tasks and record navigation data in real time;
2. The latest anti-virus business status is under control;
3. Abnormal alarm, real-time monitoring of the hardware status of the anti-virus robot and the status of the navigation system. When an abnormality occurs, an alarm message is immediately sent to the background, and manual intervention is provided to solve the problem;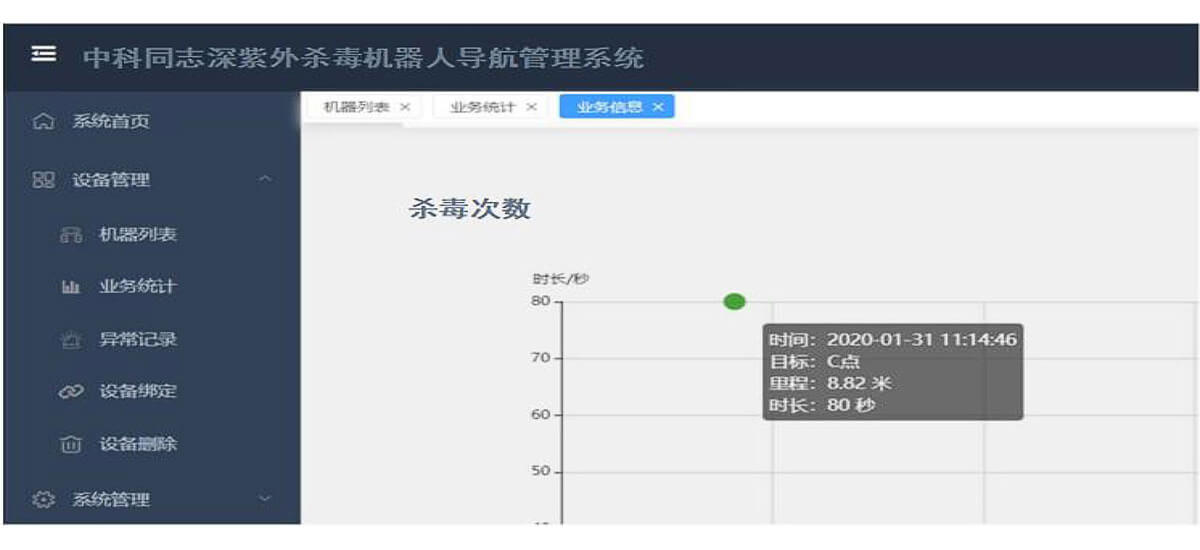 4. Log upload: The navigation log is uploaded. If there is a problem, the problem can be solved according to the log analysis reason;
5. Online upgrade: Support online upgrade of the navigation system to ensure that the robot continues to evolve / strengthen;